We're proud to announce that Barb "Western Belle" Richhart has joined the National Day of the Cowboy 501c3 Board of Directors in the capacity of 2nd Vice-chairman.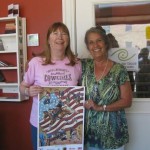 Cowgirl Richhart, who hangs her hat in Mancos, Colorado, has been a longtime supporter of the NDOC, including on-air at KSJD Dry Land Radio, as an NDOC volunteer, as an NDOC member, and with her annual National Day of the Cowboy backyard fundraising concert.
From the moment the Western Belle first learned about the National Day of the Cowboy, she began asking, "What can I do to help'? She immediately took it upon herself to encourage her friends, especially her musical friends, to become members and to help spread the word about the NDOC project through their shows. She hosts an annual NDOC radio special each July and also holds an NDOC house concert on the National Day of the Cowboy, at which she raises funds to donate to the NDOC. Barb has traveled to many events to represent the NDOC and to volunteer to help. In 2014, she was one of the esteemed recipients of our annual Cowboy Keeper Awards.
Having known her for nine years now, I can attest to the fact that Barb Richhart dedicates her life fulltime, to preserving and protecting the culture of the West she loves. She is also constantly looking for new ways to interest people in supporting the NDOC and helping us achieve our goals. These are just some of the reasons our Vice-chairman, Jerry Betley, and I feel honored to have her join our Board of Directors today as our Second Vice-chairman. Together we expect to make tremendous progress in 2015 in further establishing the 4th Saturday in July as the National Day of the Cowboy.