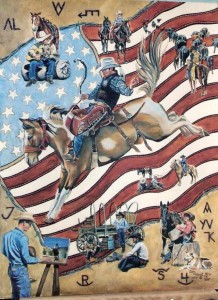 Warning!
Cowboy Keepers Print
by Zane Mead
Limited edition print of an original painting by Zane Mead, painted as a tribute to the National Day of the Cowboy. The cowboys and cowgirls portrayed in Cowboy Keepers are all from a working ranch background. Purchase includes an archival list of each of their names. At the center of the painting is PRCA Bronc Riding Champion, Cody Moore, an Arizona working ranch Cowboy and pro rodeo athlete.
Important!
Prints are on high quality, glossy, 80 pound art paper, 14″ X 20″
Hand-signed by the artist $25
Unsigned $15
S&H in USA is $6
To pay by check or money order, send payment to:
National Day of the Cowboy PO Box 11166, St Louis MO, 63135
To order, email orders@nationaldayofthecowboy.com
Call 928-759-0951
Warning!
Cowboys at Heart
by Charles Phillips
Fundraiser for the National Day of the Cowboy
A beautiful, sweet photograph of roses, stirrups, butterflies, boots and barn wood, by renowned California photographer, Charles Phillips. Charles donated this image for use at our Valentine's Day "Cowboys at Heart" National Day of the Cowboy fundraiser held in February, 2008. The event information is displayed at the bottom of the print in such a way that the text can be either included or excluded when matted or framed.
Important!
Prints are on high quality, high gloss, 80 pound paper, 13″ X 16″
Unsigned $12
S&H in USA is $6
To pay by check or money order, send payment to:
National Day of the Cowboy PO Box 11166, St Louis MO, 63135
To order email orders@nationaldayofthecowboy.com
Call 928-759-0951