Legendary artist, Jo Mora's iconic cowgirl image, The Sweetheart of the Rodeo, will grace a National Day of the Cowboy 2011 Hatch poster. That's not a typo – it is indeed for the year 2011, the one year we had to skip in our series due to a lack of funds.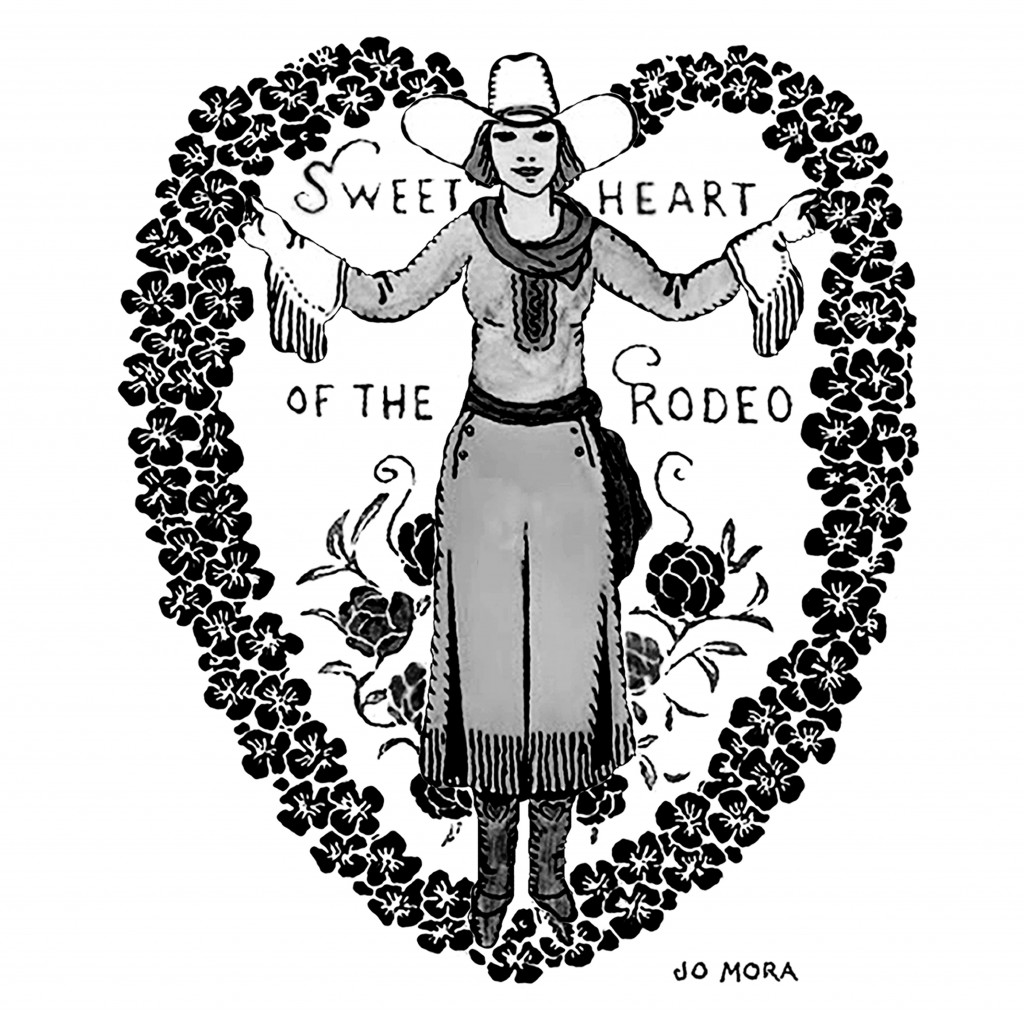 We were recently contacted by Peter Hiller, the trustee for Mora's art estate, and asked if we would like to use a piece of Mora's work for a poster in our collection. The Sweetheart has been a favorite of mine ever since I first saw her many years ago so of course, she's the one I picked. Many of you will also recall seeing her on the cover of The Byrds' 1968 seminal country-rock album, The Sweetheart of the Rodeo, which included Gram Parsons as the newest member of The Byrds, along with Chris Hillman, Roger McGuinn and Kevin Kelly. However, long before she graced the cover of The Byrds' album, she was a focal point on another of Mora's best known works, The Evolution of the Cowboy. 
Joseph Jacinto Mora (1878-1947) was born in Uruguay, but his family moved to New York when he was a small boy. He grew up in New York and New Jersey, including attending art school in the east, as well as working as an illustrator in the Boston area. But, as fate would have it, one day Buffalo Bill Cody came to town with his Wild West Show and Mora was forever after captivated by the lure and magic of the American west. He subsequently moved west, including spending time in Arizona living among the Hopi Indians. Living most of his later life in the Carmel and Pebble Beach area of California, he was recognized as a gifted and multi-talented artist in a wide range of mediums, including painting, sculpting, illustrating, map making, wood carving, writing and cartooning.
All of our NDOC commemorative posters, with the exception of the 2005, feature the artwork of a different artist from a different state. Each piece has a unique color scheme and a theme which supports the image in the artwork. Our growing list of talented artists contributing to this ongoing project include; Jennifer Ward of Arizona 2006, Texas artist, Teal Blake 2007, Zane Mead of New Mexico 2008, Christina Holmes 2009 California, Florida's Jim Harrison 2010, Kansas artist Jim Clements 2012, Utah's Don Weller in 2013, and the artwork of Oklahoma's Tyler Crow is on our 10th Annual National Day of the Cowboy poster for 2014.
In recent years, we've asked the artist to sign a limited number of the posters that feature their art. We then offer those for purchase at an additional price. For the Jo Mora poster, we'll be offering 50 of the posters numbered and including the official Jo Mora "estate stamp." And, if you check out our GoFundMe project, you'll see that we're also extremely proud to offer five posters which will be hand-signed by former Byrd's band member and cowboy, singer/songwriter/performer, Chris Hillman. 
The sale of our posters helps us keep the lights on the quest for a National Day of the Cowboy moving forward. Although we are an all-volunteer organization, our minimum annual operating expenses typically hover around $10,000. We meet those expenses through supporting members, donations, and the sale of NDOC promotional products such as belt buckles, flags, and these fantastic posters.
You can reserve a 2011 Hatch poster now by donating through our GoFundMe project or by sending an email to orders@natonaldayofthecowboy.com. Orders for the hand-signed and estate stamped posters must be paid for in advance. Due to Hatch's current 12-week turnaround time on orders, these posters will not be in stock until mid-January 2015.