Remember when joining your favorite cowboy club meant you received a code of conduct card?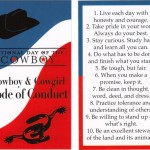 National Day of the Cowboy now  offers its own registered Cowboy Code of Conduct© card for Cowboys and Cowgirls, designed by Colorado rancher/graphic artist, Ed Pancost. Our code has been read by legislators to the California, New Mexico, Kentucky, Colorado, Idaho, Texas and Arizona Legislatures. These cards make a great addition to your National Day of the Cowboy event, or any western event you might be holding. Hand them out at parades and rodeos; anywhere you want folks to be aware there is such a code.
1.  Live each day with honesty and courage.
2.  Take pride in your work. Always do your best.
3.  Stay curious. Study hard and learn all you can.
4.  Do what has to be done and finish what you start.
5.  Be tough, but fair.
6.  When you make a promise, keep it.
7.  Be clean in thought, word, deed, and dress.
8.  Practice tolerance and understanding of others.
9.  Be willing to stand up for what's right.
10. Be an excellent steward of the land and its animals.
NDOC Cowboy Code of Conduct© is on heavy red, white and blue, glossy, standard size 3.5″X2″ business card stock.
Photo shows front and back. Price includes S&H.
2,000 cards $172.00
1,000 cards $94.00
500 cards $50.00
250 cards $26.00
125 cards $14.00
To pay by check or money order, email orders@nationaldayofthecowboy.com and let us know how many you'd like to order. Be sure and include a shipping address.
To pay by check or money order, send payment to:
National Day of the Cowboy PO Box 11166, St Louis MO, 63135