The Rifleman – The Original Series
Special 2015 National Day of the Cowboy Rifleman Offer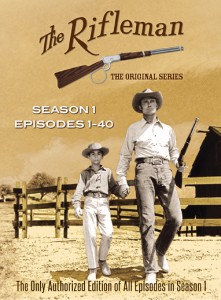 For a limited time — from July 20-25, 2015 — the authorized Collector Edition DVD boxed sets of The Rifleman will be available exclusively at The Rifleman official website at: www.therifleman.net/store.  Get $10 off of the DVD boxed set for Season 1 (regular price $69.95) or Season 2 (regular price $59.95). Be sure to apply the coupon code in the shopping cart before proceeding to checkout.
USE Coupon Code: NDC15 at checkout.
Levy-Gardner-Productions is pleased to present all 76 episodes of Seasons 1 and 2 of the iconic western TV series, "The Rifleman," starring Chuck Connors as widowed rancher Lucas McCain, and Johnny Crawford as his young son, Mark McCain. The series has been digitally remastered on DVD, with media encoding for the first time ever. All 76 episodes are presented in their original televised sequence in two Collector Edition boxed sets for Seasons 1 (episodes 1-40 on 8 discs) and Season 2 (episodes 41-76 on 6 discs). The Collector Edition DVD sets are packaged in an illustrated folding tray pack that slides into a handsome slipcase, and each set includes a printed program booklet.   Season 3 is set for release in the fall of 2015. Stay tuned to the official website for updates: www.therifleman.net
The Rifleman is a classic western series set in the fictional town of North Fork, located in the New Mexico Territory. The show's main themes focus on the strong bond between father and son as they confront the adventures and challenges of homesteading a ranch at the edge of the American frontier of the 1880s. Lucas McCain's custom Winchester Rifle is the signature symbol of the series' law and order message, with justice and a sense of fair play central to its guiding principles.