2014 NDOC Hatch Poster Status
The historic Hatch Show Print Letterpress Shop is currently working on the draft layout for our 2014 National Day of the Cowboy poster commemorating the 10th Annual National Day of the Cowboy, coming up on July 26th, 2014. Hard to believe ten years have passed since we started this endeavor to permanently establish the National Day of the Cowboy, which at that time, I expected to take only three years!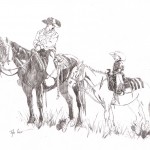 This is the ninth poster in our series of NDOC Hatch Show Prints. The artwork was created by Oklahoma's Tyler Crow, a gifted artist and lifelong cowboy. Tyler's art is being carved into the plate for our poster, which is made from vintage hand-carved wood blocks and hand-cranked on a press. In celebration of this milestone date, the 2014 poster will be in three colors, instead of our traditional two-color poster. The theme is "Share the Past & Shape the Future." Once the draft is finalized, we'll be put in the print queue at Hatch, but since we're going with three colors, the print process will take longer since each poster will have to dry completely after each of the three color applications.
As we've done each year since our 2009 poster, we'll have a limited number hand-signed by the artist. If you'd like to reserve one signed by Tyler, the first ones with go to those who donate to our GoFundMe project which is helping defray the cost of the poster. Donate $45 through GoFundMe and you will receive a hand-signed poster. The $45 includes S&H. If you'd rather take your chances and simply reserve a signed poster through our website, they will be $35 plus $5.50 shipping and handling for up to two posters to the same address. You may, of course, also reserve and unsigned poster which will be $20 plus $5.50 shipping and handling for up to two posters to the same address (orders@nationaldayofthecowboy.com).
We also still have posters from some, but not all, past years available for purchase. If you'd like to see the complete series, you'll find images of all of the posters "Shop" section of our website. Although not all years are available any longer, we are offering to any one donor of $500 through our GoFundMe project, the entire series of posters, beginning with the 2005 and up to and including 2014 (There was never a 2011.)
Legislative Activity
The Governor's of Idaho and Indiana, have both issued National Day of the Cowboy proclamations again this year. The legislatures of Washington and Tennessee both passed NDOC resolutions. Our high hopes for permanent passage in Kentucky did not come to fruition as our bill, after passing unanimously in the House, was not assigned to the Agriculture Committee in the Senate, and the committee to which it was assigned, never let it out of committee. These are hard lessons we learn along the trail of this process and they certainly add to the length of the process. Next fall, we'll be talking again with legislators in KY, TN, IN and TX, working to have all of our ducks in a row, at least in those states, before the legislatures convene in 2015. As always, we need your help. If you live in a state where we've not yet achieved permanent passage, it always makes a difference if we have a constituent or a western/horse/agricultural related organization working with us in those states. Email info@nationaldayofthecowboy.com if you'd like to volunteer to help achieve passage in your state.
On the Road
National Day of the Cowboy will once again have a table at Brian Lebel's Old West Show & Auction in Denver, the weekend of June 27-29. We bring brochures, posters, prints, membership applications and pins, and miscellaneous items for sale that have been donated to us to help with fundraising. The National Day of the Cowboy flag which flew to the International Space Station aboard the Discovery Space Shuttle will be there on display. Hopefully we'll have the 2014 NDOC Hatch Poster with us too. Please stop by and say "hello" and learn more about the work we're doing for preservation. We always love to meet new folks!
Read 'Em Cowboy©
We're currently working on building our Read Em Cowboy program to expand it and establish more Read Em Cowboy Circles©. We've decided we need an official Foreman dedicated to growing this project and to helping it establish strong roots. Read 'Em Cowboy© is a formal literacy project of the National Day of the Cowboy 501c3 organization, established with author J.R. Sanders, to encourage young people to read and write western literature and cowboy poetry. This project is a natural extension and expression of the NDOC mission. If you'd be interested in the Foreman's position, or in that of a Circle Wrangler, or, you just want more information about it, please email info@nationaldayofthecowboy.com Subject: Read 'Em Cowboy.
Events
Just a reminder that we do have an events calendar and our calendar Wrangler, Cindy Longoria of Washington, is waiting to receive your event information and post it on our calendar. This is not just for NDOC events, but if you are doing anything special for the NDOC, we'd like to post that information for you. Getting legislation established is important, but the most important aspect of this effort is to in fact, CELEBRATE! If you'll go to the calendar, you'll see numerous events, both large and small, already published there. To get your events posted, send details to events@nationaldayofthecowboy.com
Cowboy Keeper Awards
The 2014 Cowboy Keeper Award recipients will be announced on Saturday, July 5th.
Supporting this Crusade
Options for supporting this effort continue to grow. We are now a charity recognized by Fry's Food Stores Community sharing program. If you live in Arizona and shop at any Arizona Fry's store, you can very easily link your Fry's card to our nonprofit so that every time you buy groceries, Fry's makes a donation to the NDOC. That's right, Fry's makes the donation, not you! If you buy or sell on EBay, you can also select the National Day of the Cowboy to receive a portion of your sales or to make a donation when you check out after a purchase. Your donation can be as little as $1. Just select the National Day of the Cowboy from their dropdown list of approved charities. Another option is our GoFundMe project which we set up to help us pay for the creation of the 2014 Hatch poster. We have several different reward levels set up including a retired membership pin going to anyone who donates $10. We encourage everyone to become a supporting member of the NDOC and receive a membership pin and card, plus a 10% to many of our products and to a selection of retailers. The membership pin changes every year and the 2014 membership pin features chaps. Volunteers are always needed and appreciated as well. We couldn't have come this far if it weren't for the volunteers. This is a 100% grassroots effort and we must have volunteers and members to keep it going and see it through.
Hat's off to the cowboy and cowgirl. Don't forget to celebrate and wear your hats and boots on July 26th 2014!