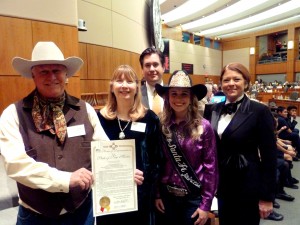 On Monday, March 4th, 2013, the New Mexico State Legislature passed the National Day of the Cowboy bill in honor of New Mexico's rich and diverse cowboy and ranching heritage. The bill was passed unanimously and in perpetuity, making New Mexico the third state in history to assure the National Day of the Cowboy a permanent place in the state's celebration of its culture.
The NDOC bill was sponsored by Representative Brian Egolf, at the request of Richard Beal, of Beal's Cowboy Buckles, located in Lamy, New Mexico. Representative Egolf enlisted the support of rancher and NM Representative Candy Ezzell, to co-sponsor the effort. Richard Beal, Ms. Santa Fe Rodeo Princess, Abbagail, and NDOC Executive Director, Bethany Braley, were guests on the podium in the legislative session for the final vote.
The National Day of the Cowboy bill was awarded permanent status by the State of Wyoming in March, 2012, thanks to the efforts of Mrs. Susan Thomas. The bill passed, in perpetuity, in Calfiornia, in June 2012. Other states now in the process of passing the National Day of the Cowboy legislation are Arizona, Oklahoma, Kansas, Florida and Texas.
 

New Mexico National Day of the Cowboy posse.