Have an event you want published on our online calendar?
Email your Event Details to: events@nationaldayofthecowboy.com

Caldwell Chisholm Trail Fest – Caldwell, Kansas
May 3 @ 8:00 am

-

May 8 @ 5:00 pm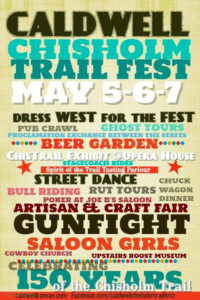 Born on the Chisholm Trail and nicknamed the Border Queen by the Texas cowboys, Caldwell is celebrating her 150th Birthday with a huge lineup of events with COVID safety protocols top of mind.  This mostly outdoor and multi-dimensional activity event in a historic 3-block downtown boasts the Chisholm Trail heritage through storytelling, music, and Opera House plays. The festival will be centered on Chisholm Street in honor of our Chisholm Trail history and just one block east of Main toward the tracks. Easy, walkable access to everything!
Starting early in the week on May 3rd, a 5 day/6 night Cattle Drive will drive 150 longhorns up the historic Chisholm Trail for daily camp interactive visitation with the chuck wagon, drovers, longhorns, horses.  Relive history as the cattle move north from Pond Creek, OK to Caldwell with a "Longhorn Parade" as the 150 head are driven right up the middle of Main Street at 11:00 am on May 8th!
Friday, May 7 kicks off the weekend with interactive and educational Buffalo Soldier camp and Cowboy Camps in the afternoon, we'll bring the cultural influences that shaped Caldwell's existence together in our Czech Historic Landmark Bus Tour followed by a downtown "These Old Bones" business district walking tour with terrific tales and storytelling, honoring the influx of proprietors and pioneers anxious to start a new life out here on the prairie! Also a starting location for the 1893 Cherokee Outlet Land Run, Caldwell saw many boomers, booms, and busts that created a colorful past and great fodder for storytelling!
Saturday, May 8 opens with a Red Hills Run to energize your day, then 3 stages, 9 speakers, 4 bands come alive with a festival atmosphere of FUN including Food trucks, City Proclamation and Birthday Cake!  Enjoy the self-guided Walking Tour, the "Chisholm Trail Market" vendor booths, fantastic Western Art Show and interactive Buffalo Soldier and Cowboy Camps, Cattle Drive on Main Street, Pioneer Family Recognition, and tasting event! Visit the Czech Beer Garden and wagon rides, wonderful speakers and upstairs show by the Wild Women of the West accompanied by the reenactment of the Talbot Gang Shootout where the businessmen were handed all the available guns and ammunition to chase down the gang and bring them to justice! The Border Queen Regulators and Border Queen Bellas will put on several gunfights & saloon shows throughout the day.
All the coinciding events will keep you hopping and will also allow a safe gathering in each space, PLUS we'll video the events for safe watching from home. See the event lineup for details and come on down for a hot time in the old town – the Border Queen!  Check out the daily updates at Facebook.com/caldwellchisholmtrailfest