Have an event you want published on our online calendar?
Email your Event Details to: events@nationaldayofthecowboy.com

40th Annual Old West Days – Jackson Hole, Wyoming
May 22 @ 8:00 am

-

May 31 @ 5:00 pm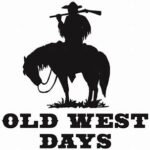 A weekend festival full of exciting events including live musical performances, rodeo events, tours, arts and crafts, and much more.
May in Jackson often serves as an ode to the humble beginnings of a small, hard-working town. Despite changes to the traditional event schedule due to Covid, this May will keep the spirit of the old west alive.
Rich with ranching history, alive with culture, and vibrant with Western music, the traditional Old West Days Festival, May 22 – 31, is one of the best times to visit Jackson, WY. On Memorial Day weekend, the famed Stage Coach rides and Jackson Hole Shootout return to Town Square; authentic rodeo culture "bucks off" at the rodeo grounds on May 29; the Bar J Chuckwagon launches their final season this year.
Safety continues to be a key concern over the outlined dates, causing some crowd-gathering events to postpone. Jackson Hole ElkFest, including the BSA Elk Antler Auction, will take place on Saturday, October 2 in its traditional format on Town Square. "ElkFest is one of Jackson's most unique events, attracting antler collectors nationwide," says Chamber Director of Events, Britney Magleby. "After hosting an online antler auction last year, guests are buzzing at the prospect of returning to an in-person, live auction on center stage."
Finally, some "Old West" events have decided to cancel this year with the hopes of returning better than ever before in May 2022. The Old West Days Parade, the longest horse-drawn parade in the west, and the Old West Brewfest, a celebration of local craftsman, will return Memorial Day weekend next year. "Some events that highlight the Old West Days Festival were simply not feasible to operate as the community recovers from Covid," continues Magleby, "so we look forward to raising a pint to the Old West when it feels right."