Have an event you want published on our online calendar?
Email your Event Details to: events@nationaldayofthecowboy.com

37th National Cowboy Poetry Gathering – Elko, Nevada (on-line event)
January 30 @ 8:00 am

-

5:00 pm
The Elko Cowboy Poetry Gathering started 35 years ago as a place where Western ranchers and cowboys could gather to share poems about their lives working cattle. From the beginning, it was clear these men and women had found their tribe, an artistic community that few knew existed. Three decades later, the tribe is now a nation of Western poets, musicians, artisans and storytellers, sharing their creativity across the country, telling their stories of hard work, heartbreak and hilarity, and what it means to make your way in the rangeland West.
The Elko Gathering was renamed the National Cowboy Poetry Gathering thanks to an act of Congress. Known simply as "Elko" to many, the Gathering embraces its role as a pilgrimage destination for thousands of ranch folk and others who love the West and come to learn and experience art that grows from a connection to the rhythms of earth and sky. The National Cowboy Poetry Gathering is poetry, music, dancing, workshops, exhibits, conversations, food and fellowship, rooted in tradition but focused on today's rural West.
Find more information at nationalcowboypoetrygathering.org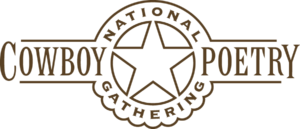 Because of the pandemic, they will not be able to gather in Elko, but they're not going to let that stop them! They're going online in 2021 and calling this go 'round "Rodear Year." In ranching, a rodear happens when cattle are gathered together and held in a circle, typically in a remote location where there are no corrals available. A rodear allows the cowboys to perform their work and now we find ourselves in a similar position this year. We can't hold our beloved event at headquarters, but in the spirit of rodear, we will be going online, visiting poets, musicians, storytellers, cooks and artists on their home turf. We're looking forward to a range of experiences from rural ranch country, and you can think of this one-day event as a digital campfire, a way to still bring people together while also sharing a taste of the Gathering with family and friends who have yet to attend in real life. Mark your calendars and join them online January 30, 2021. The event is free to Western Folklife Center members, so join today!