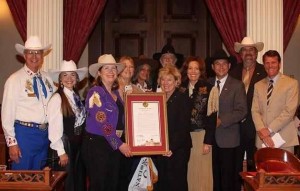 On June 7, 2012, the California Senate voted to award permanent status to the fourth Saturday in July as the National Day of the Cowboy. The CA Senate first passed the 2012 bill March 27, but since they were asking for permanent status, the resolution had to also go to the California Assembly. As the bill was in process, some objections came in, so the CA Rules Committee had to review both the reasons for objection and the countering reasons for support. In response to the objections, many people and organizations from California and around the country, as well as from Canada, wrote letters and sent emails of support for the NDOC legislation. Also, CA Senator Gaines represented the NDOC's point of view at the committee hearing, as did Bob Fox from the California Rodeo Association and Vi Tara of the Highway 50 Wagon Train Association.
As a result, the bill came out of the Rules Committee with only one 'no' vote. A few days later, it went to the Assembly floor sponsored by Representative Fiona Ma, for a vote and passed with 68 co-authors. However, since the rules committee had modfied the original bill text, the newer version had to again go back to the Senate for a final vote. It passed there late on the afternoon of Thursday, June 7.
This marks another major milestone in the effort to achieve permanent status for the National Day of the Cowboy resolution in Congress. California became only the second state in history to establish the Cowboy Day in perpetuity. Wyoming lead the way as the first state to do so on March 13, 2012. It is hoped that as more states officially establish the fourth Saturday in July as their day to celebrate cowboy culture and pioneer heritage, the United States Congress will support that by giving it pemanent status at the national level.