The National Day of the Cowboy, in conjunction with Henry Repeating Arms, is proud to offer
you the very rare opportunit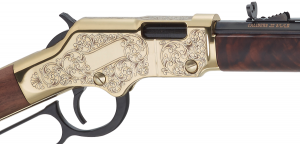 y to own a uniquely inscribed Henry Golden Boy rifle with a one-of-a-kind engraved receiver cover. We've teamed up with Henry to create this one, very special, commemorative NDOC rifle that is sure to be treasured forever by the person fortunate enough to own it. We think It makes a perfect gift for a birthday, retirement, graduations, Father's Day, Mother's Day, military service, or just about any other special occasion. Of course, it also makes a magical gift to honor someone on the National Day of the Cowboy,  And, while It will indeed make a unique gift for a friend or family member, you could also simply treat yourself and hang on to it if you're the lucky winner.
The Henry details include; one-of-a-kind National Day of the Cowboy engraving on this Golden Boy 22 Long Rifle, an octagonal barrel and looped lever, a personalized "13th Annual National Day of the Cowboy" receiver cover.  This beautiful piece also features a customized serial number,  "NDOC2017."
We are launching the raffle today. There will be only 100 squares sold for $25 each. Squares are assigned after all 100 slots are sold and just before the drawing takes place. This will be the only Henry Rifle we raffle this year.
To get your name added to the raffle board, send a check for $25 per square, made out to National Day of the Cowboy. Write "NDOC Rifle Raffle" in the memo field.
Mail check to:

Darrell Wyatt
NDOC Raffle
P O Box 506
Amelia Courthouse, VA  23002-0506
All proceeds benefit the National Day of the Cowboy 501c3 organization which is working to secure permanent status for the 4th Saturday in July as a day to celebrate cowboy culture and pioneer heritage in all fifty states. The final drawing will be in Amelia Court House VA, at their National Day of the Cowboy celebration on October 13th, 2018.
Get your squares while they last. Remember, we're only selling one hundred chances to win this one-of-a-kind National Day of the Cowboy Henry Golden Boy 22 Long Rifle.