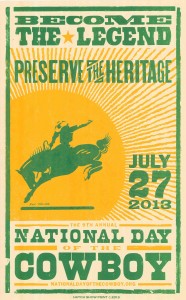 The 2013 National Day of the Cowboy Hatch posters have arrived and they are a stellar addition to our collectible series. World-renowned Utah artist, Don Weller's western horse and rider graphic is dramatically displayed in Meadow Green, silhouetted inside a huge vintage Golden Yellow sunburst. We first began incorporating original art into our posters back in 2006, beginning with Jennifer M. Ward of Arizona. The following years included the artwork of Teal Blake of Texas, Zane Mead from New Mexico, Christina Holmes from California, Jim Harrison of Florida, and Jim Clements of Kansas. All of our posters are unique two-color combinations and all are on a vanilla toned paper.
Hatch Show Print of Nashville, Tennessee, has been making posters out of hand-carved wood blocks and hand-cranked on a press, since 1879! They are definitely an American tradition.
Order your NDOC Hatch today and "Become the Legend." We still have a few hand-signed by Don. Email orders@nationaldayofthecowboy.com to get your poster while supplies last. You may send payment through PayPal or mail a check or money order. Hand-signed posters are $35 each, unsigned $20 each.